It's really no secret that master data is a key component to building a lean, efficient process-driven Supply Chain organization. But what remains elusive to many businesses is how to effectively manage their data given that there are multiple stakeholders who are accessing and inputting the data in ways that, unfortunately, aren't always congruent throughout the company. The result: bad data.
• Businesses struggle with organizing 
Material Master data.
• Once organized, the challenge become
Maintaining structured data. 
• Employees are frustrated. Time is lost. 
Business decisions are compromised.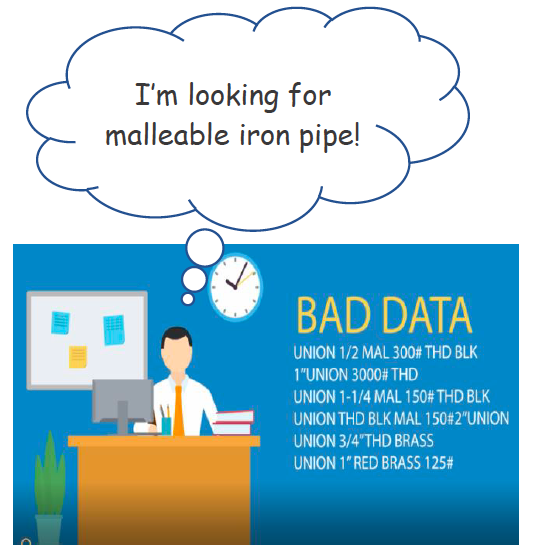 Inaccurate and redundant data can cause the purchasing budgets of many companies to spiral out of control. As parts are bought, stored and in danger of being lost in a non-standardized database. This creates expanding problems as inconsistent data is propagated up and down service lines.
Common Master Data Issues
Inconsistent Abbreviations
When it comes to ERP systems, businesses are limited by the number of characters of text that can be entered into a particular field. This is just one of the data challenges that many companies face—no company-wide action plan to govern the correct database usage of abbreviations.
As a result, many purchasers and warehouse personnel will use their best judgment when it comes to abbreviating materials. When Joe from Purchasing is assessing the inventory, he may not use the same abbreviation that Mike from Receiving uses to document the receipt of materials. The less-than-perfect outcome of such arbitrary record keeping should not be unexpected. In this scenario, Purchasing and Receiving are not always on the same page, although they are primarily unaware of it.
Unfortunately, the ERP system does nothing to force congruity or accuracy of the data being entered into a system. Such free text fields can wreak havoc on inventory levels and cause a cascading chain of errors with far-reaching implications.
Duplicate Records
Many companies have several business initiatives underway at any given point in time. These initiatives could focus on various aspects, i.e.: A. Increased operational efficiencies, B. Cost reductions and C. Strategic synergies. The Merger and Acquisition team could be trying to evaluate potential opportunities based partially on the synergies gained with consolidation of supply chains, lines of products, or operations. Meanwhile, Supply Chain Management is looking for better leverage and spend visibility. Duplicate abbreviations could distort the picture significantly for each of these key players. Unclean material masters that are inconsistent can result in data that cannot reliably be used in reporting to drive any of the business initiatives forward.
Same Abbreviations
Items that use the same or very similar abbreviations often clog materials masters and can contribute to unnecessary purchasing spend. Should a company want to add a "gal" abbreviation for a gallon of lubricant, then they must keep in mind that products should have different designations. Otherwise, the "gal" could signify a galvanized steel pipe. Even if companies are aware of potential confusion, such deviations are not easily or efficiently correctable. Running a search query or employing a search formula in spreadsheets utilizing free text fields can be overwhelming if it is not known precisely where the problem lies. Even if that task is successfully accomplished, multiple changes will need to be made for all the abbreviations that require sorting, a time-consuming and frustrating process. When the material masters contain abbreviations that are virtually the same, confusion will likely occur for those in charge of purchasing, warehousing, forecasting—all the way up to C level executives who rely on accurate data to make critical business decisions.
Given the number of potential avenues for data inconsistencies, what's a company to do?
Enter the QuadraDot solution, a two-pronged approach for assisting companies in data cleanup and data management:
1. Consulting with clients to identify strengths and weaknesses in their data
2. Educating the client in effective and efficient data governance and data structure
Moreover, we are currently engaged in creating a cloud-based application that replaces the complex spreadsheets and databases once used in master data.
Granite Material Master™ Software
Granite Material Master™ is a customizable, scalable and user-friendly platform that can act as the gatekeeper of all relevant company data. Massive spreadsheets cannot be transformed and easily introduced into most ERP, OLM and WMS software systems. QuadraDot's proprietary software is highly customizable and will accommodate the business, not the other way around. Such a high level of customization ensures that all the company's needs are met without compromise. Current data can all be imported into the Granite Material Master™ software so that the company can start anew with cleansed data fields. Custom fields can then be devised to enable the capture of master data that is unique to the individual business.
Superior Supply Chain Consulting
Our QuadraDot consultants will start by analyzing the current state of company data which will identify where inefficiencies and gaps are located. We will then collaborate with relevant stakeholders in each organization on a strategy that will correct these data variances and then facilitate the process going forward to maintain pristine data governance and data structure.
The world of data can be complicated at times, but the experts at QuadraDot have the experience, know-how and tools to handle any job—no matter how large, small or complex.
QuadraDot Services:
System Implementation & Optimization: Merely migrating data from one ERP system to another will only serve to relocate the problems to another system. We can help optimize and implement the new ERP, desktop platform switch, or purchasing software.
Our decades of combined experience ensure that the company is in capable hands.
We'll work with the various stakeholders to define proper taxonomies after the new Granite Material Master™ software has been implemented.
Process Optimization and Implementation: We will help optimize business processes to streamline better workflows, resulting in savings of both money and time.
Policy Procedure and Development: New system? New Challenges. Old system? Old and inefficient procedures. QuadraDot experts will give your team a fresh perspective before the finalization of all new processes.
Continuous Improvement: Lean manufacturing and the dedication to constant improvements can help a business continue its growth. We at QuadraDot are committed to streamlining and accelerating the material master process.
Data Analysis: Leveraging an ever-growing mountain of data can help a business locate gaps in production and streamline processes. We will advise and analyze material inventories, master data and accounting data to ensure all data is sanitized—generating consistent and accurate data throughout the company.
Allow our QuadraDot Six Sigma Black Belt led team to revitalize and renew your master data. Our proprietary Granite Material Master™ software will help you create step-by-step specific naming structures that can be used to create materials time and again—consistently—while easily helping you navigate through the process and apply the relevant naming standards to your materials.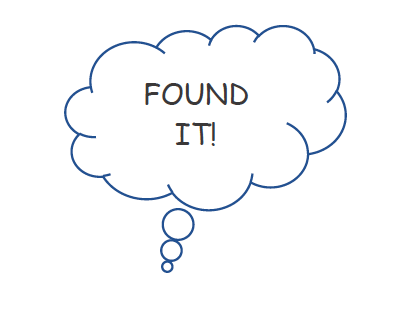 So, what's the big deal about Master Data?
Nothing when your company's material masters are in the highly qualified hands of our expert consulting team. We welcome the opportunity to demonstrate the QuadraDot solution for your business.